Partner with Treeasure Valley Farm(cbd flower wholesale suppliers) and cash in on the emerging marketplace for wholesale hemp flower in North Carolina.
North Carolina is one of the largest hemp producers in the nation. With over 1500 licenses issued in 2019, the state is well on its way to becoming a dominant player in the hemp industry. The main focus is on hemp CBD products — including smokable hemp — as the U.S. market is expected to grow to $20 billion by 2024.
Want to cash in on the emerging North Carolina hemp marketplace? All you need to do is fill in the form on this page and get access to a carefully curated hemp flower collection with 30+ CBD and CBG hemp flower. But first, take a look at our line of top-shelf products:
Retail Buying Products: You own your own retail location(s) and want to carry our products.
Distributor/Wholesaler Buying Products: You purchase in quantities of a distributor and/or wholesaler.
Buying Non-Branded Bulk: Interested in purchasing hemp flower in bulk (1lb minimum)
Farmer: You own or co-own a farm.
Broker: You distribute flower directly from farms, you don't own the farm.
Manufacturer: You are the actual manufacturer of products looking to sell those products.
Pre-Packaged and Bulk CBD Flower from Treasure Valley Farm | Buy Wholesale Hemp Flower North Carolina
Retail Ready Pre-packaged Hemp Flower
Let our team at Treasure Valley Farm take care of all of your store's hemp flower needs. We source CBD flower directly from licensed U.S. farmers from the best organic farms in Oregon, Tennesse, California,  Washington State, and Colorado. Our hemp flower is cultivated by experienced farmers that have been in the business for over five years. Yet, we weed out a lot of bad flower to get to the good stuff — smokable hemp worth sharing with our North Carolina wholesale partners.
Hand Trimmed CBD-rich Hemp Flower
Running your North Carolina hemp flower business is hard work. Let our team take care of the quality and aesthetics of the products you put on your shelves. We will provide you with hand-trimmed and pre-packaged hemp flower with less than 0.2% THC in large quantities. Based on your preferences, we will have your hemp flower pre-packaged as eighths, grams, and quarters. Check out some of our best hemp flower strains,Banana Moon Hemp Flower and Momo skunk Haze Hemp Flower.
Full Spectrum CBD Gummies (with THC) 
Gain a competitive advantage and improve cash flow by offering full spectrum hemp CBD products from a reputable brand. We manufacture our own Full Spectrum CBD Gummies, a product infused with potent full spectrum CBD oil abundant in various cannabinoids and terpenes. Each of our full spectrum CBD gummies comes with over 25mg+ of CBD, plus terpenes, offering the benefits of the entire hemp plant profile.
Update your shelves with a unique hemp CBD product. Treasure Valley Farm's Full Spectrum CBN Gummies are infused with full spectrum CBD oil that contains high levels of cannabinol (CBN), hemp's rarest cannabinoid.
Hemp Pre-rolls and Pre-rolled Blunts
Looking for 100% pure, strain-specific hemp flower pre-rolls and pre-roll blunts with less than 0.3% THC? That's exactly what you're going to get from Treasure Valley Farm. We make our hemp pre-rolls and pre-roll blunts with freshly ground hemp flower. You can rest assured your hemp pre-rolls and blunts will be free from any low-CBD plant matter, excess hemp flower trimmings, or additives. Check out our best-sellers, Afghan Maple Hemp Pre-Roll Blunt and Cherry Creme Brulee Hemp Pre-Roll Blunt.
Hemp Cigarettes 
Our hemp smokes rose to the top quickly after we've added them to our product collection. The Treasure Valley Farm Hemp Cigarettes are different from other cigarettes on the market in a way that they are a pure blend of CBD-rich hemp flower and kief. Our smokes are additive-free, nicotine-free, and contain less than 0.3% THC. Do you need another reason why Mr. Hemp Flower's smokes deserve a spot at your North Carolina shop? If you have more questions on our hemp smokes, we want to hear from you.
When we say our PCR Hemp Oil is the best on the market, we have the labs to support it. Mr. Treasure Valley Farm's PCR Hemp Oil is truly rich in the entire hemp plant profile — CBD, CBG, CBC, THC, terpenes, fatty acids, proteins, you name it, this oil has it. Customers will appreciate your store for stacking on potent and effective full spectrum hemp CBD oil that allows them to reap the benefits of the hemp plant — and is completely legal with less than 0.3% THC.
FREE Marketing Materials to Help You Attract More Customers
With your wholesale order of pre-packaged smokable hemp products, you'll get free promotional materials to help you attract more customers.
Give customers the right recommendation on hemp flower each and every time. Our 50-page booklet is a handy tool wealthy in info on various CBD flower strains.
Order Bulk Hemp Flower from Treasure Valley Farm  (not pre-packaged)
You want the best for your brand, and we are here to deliver. Treasure Valley Farm provides your shop with large quantities of machine-trimmed CBD and CBG hemp flower with less than 0.3% THC. We source our hemp flower directly from vetted farmers in TN, Oregon, Washington State, and Colorado. Your order will come trimmed, so you can put the hemp flower into your packaging and create your brand instantly. We trim our premium strains by hand (small batch production).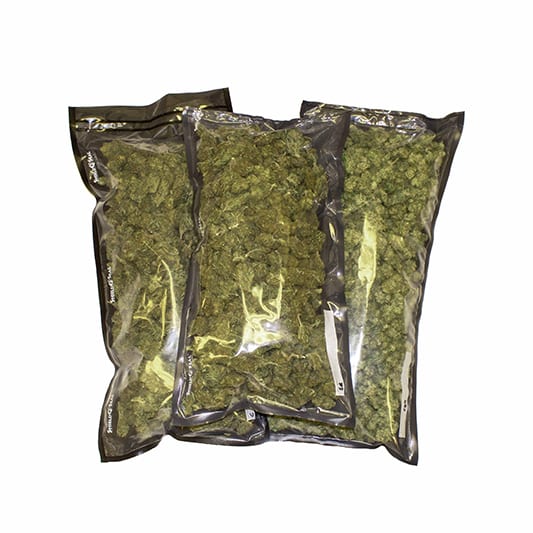 Retail Stats and Potential Margins At Treasure Valley Farm | Wholesale Hemp Flower North Carolina
How much can you earn from reselling hemp flower purchased wholesale? Our estimates show that an order of $2,500 from Treasure Valley Farm — with current discounts — can make you roughly $5,000 to $7,000 in sales.
Stats and Margins
An order of 30 eighths of Gelato CBD  Hemp Flower at a discounted price of $14.99, costs you $449.8 to buy wholesale. If you sell eighths of this flower at $29.99 ($29.99 x 30 = $899.7), you will make $449.9 in profit, which is a 50% margin. Strawberry Cake Hemp Flower is an outdoor grown CBD powerhouse with CBD levels going over 17%. Depending on the demand, you can sell eighths of this strain at $33.99 and have a profit of $569.9 ($33.99 x 30 = $1019.7) with a 55% margin.
Buy Indoor cbd flower in bulk – Is Reselling Hemp Flower Legal in North Carolina?
The legality of reselling hemp flower and full spectrum CBD products depends on both federal and state laws.
Buy Wholesale CBD Flower in lbs From Treasure Valley Farm – Is Reselling Hemp Flower Legal on a Federal Level?
The hemp plant is legal on a federal level. Individuals are allowed to grow, process, and sell hemp and hemp-derived products with less than 0.3% THC. Although the 2018 Farm Bill set the ground for hemp, not all hemp-derived products are regulated on a federal level. The United States Department of Agriculture (USDA) covers the cultivation of hemp, for which it released a regulatory framework — its Interim Rule on hemp. One of the most significant changes that states have to follow regarding the cultivation of hemp is the testing for total THC levels. This means that aside from the levels of delta-9 THC, farmers will have to test their crops for the potential conversion of delta-9 tetrahydrocannabinolic acid (THCA) into THC.
The Food and Drug Administration (FDA) regulates the manufacture and sale of hemp-derived CBD products on a federal level. Currently, the FDA is investigating the effects of hemp CBD on the human body, which encompasses a range of hemp CBD products. While hemp CBD is not allowed to be marketed and sold as food or dietary supplement — or under medical claims — smokable hemp remains unregulated on a federal level.
Order Wholesale CBD Flower With a discount code from Treasure Valley Farm – Can You Resell CBD Flower in North Carolina?
You can resell CBD flower in North Carolina, as the state has set to keep smokable hemp legal in 2021. Initially, North Carolina legislators were pushing to ban smokable hemp in the state, despite its popularity and profitability. In June 2020, the state legislators passed a bill into law that kept smokable hemp legal [1].
North Carolina legalized hemp production under its pilot program, and will keep these regulations for the 2020 growing season. The state is following the FDA's regulations and doesn't allow the sale and marketing of hemp CBD in food and dietary supplements [1].
Buy CBD Flower wholesale in Los Angeles-Why Treasure Valley Farm?
We eliminate all of the hurdles that come when working with a regular supplier of pre-packaged hemp flower. We are a brand known for its quality — transparent, timely, and reliable. These three things have contributed to our success and a large customer base — we have over a thousand five-star customer reviews both on our website and Google. Our team holds high quality standards — from the hemp we use to the products we make — we go above and beyond to deliver more than expected.
Stack your North Carolina hemp flower shop with lab-tested, top-shelf smokable hemp items and full spectrum CBD products from Treasure Valley Farm and gain competitive advantage. Contact us today, we want to hear from you.
How to Make Your Wholesale Order from Treasure Valley Farm?
Have questions? Want to make your wholesale order ? Here is how to get in touch:
Give us a call — we'd love to hear from you. We are here to answer all of your questions and help you fill in your order.
Fill out the form below — if you know which products you want delivered and want to make an order, fill out the form below.
Fill out our wholesale price quote form — have a specific product in mind? Fill out the form with the product and its quantity, send the form to in@treasurevalleyfarm.us, and we'll get back to you with a price quote within 24 hours.
Buy cbd flower in bulk cheap
Order CBD flower wholesale in Europe